Benny has just returned from making two visits to the USA and Norway, where he met with Senators, members of the US Congress and other international figures to discuss the issue of West Papua, especially media access, self-determination and the release of French journalists Thomas Dandois and Valentine Bourrat.
Visit to the United States
In early October, Benny visited the USA to increase international support for West Papua. In Washington, he held a meeting with church leaders from the United States Conference of Catholic Bishops, Alliance of Baptists and representatives of other denominations. In this meeting, Benny discussed the deteriorating human rights situation in West Papua together with the strong need for church support.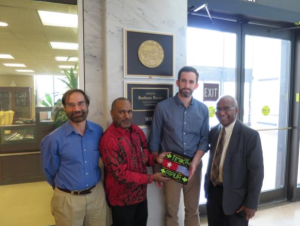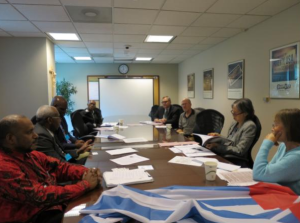 Benny discussed the self-determination and media-freedom issue with members of the US Congress and Senate. Together with Papuan diplomat Octavianus Mote, Benny visited the offices of Senator Barbara Boxer (California State Senator) and Senator Dick Durbin (Assistant Majority Leader.) You can listen to an interview with Benny on ABC Radio Australia when he was in Washington, talking about his work lobbying US parliamentarians for the release of the two French journalists in West Papua here. Benny is happy with the widespread support he received in the US for media access in West Papua and the release of journalists Valentine and Thomas.

Visit to Norway
This week, Benny also visited Oslo in Norway where he was invited by the well known Oslo Freedom Forum to speak about how the Interpol Red Notice System is being abused by the Indonesian government. Benny was himself a former victim of this abuse of the system when the Indonesian government issued an Interpol "Red Notice" on him, preventing him from travelling. In a landmark case led by Fair Trials International, Benny's red notice was removed, with Interpol formally admitting that it was "predominately political in nature." Benny's speech at the Oslo Freedom Forum highlighted the Indonesian government's failed and immoral attempt to stop his peaceful campaign as he continues to internationalize the issue of West Papuan independence.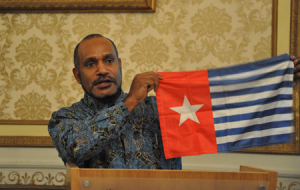 You can watch this inspirational speech about Benny's experience with the red notice system here

Benny met with a lot of people during his time in Norway including the Head of Fair Trials International, Jago Russel, the Secretary General of the Norwegian Helsinki Committee Bjørn Engesland and American actor Jeffry Wright. Benny discussed various issues affecting West Papua today which center around the fundamental human right of the West Papuan people to self-determination, which has been denied by the Indonesian government for over 50 years.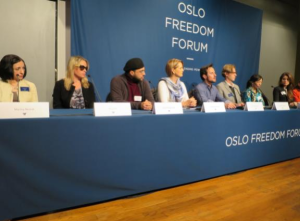 Extremely confident at the outcomes of both these visits, Benny continues to lobby politicians, human rights groups and others to support the West Papuan people and their struggle for self-determination and freedom. He remains firm in his belief that with such international support for West Papua, one day his people will be free.