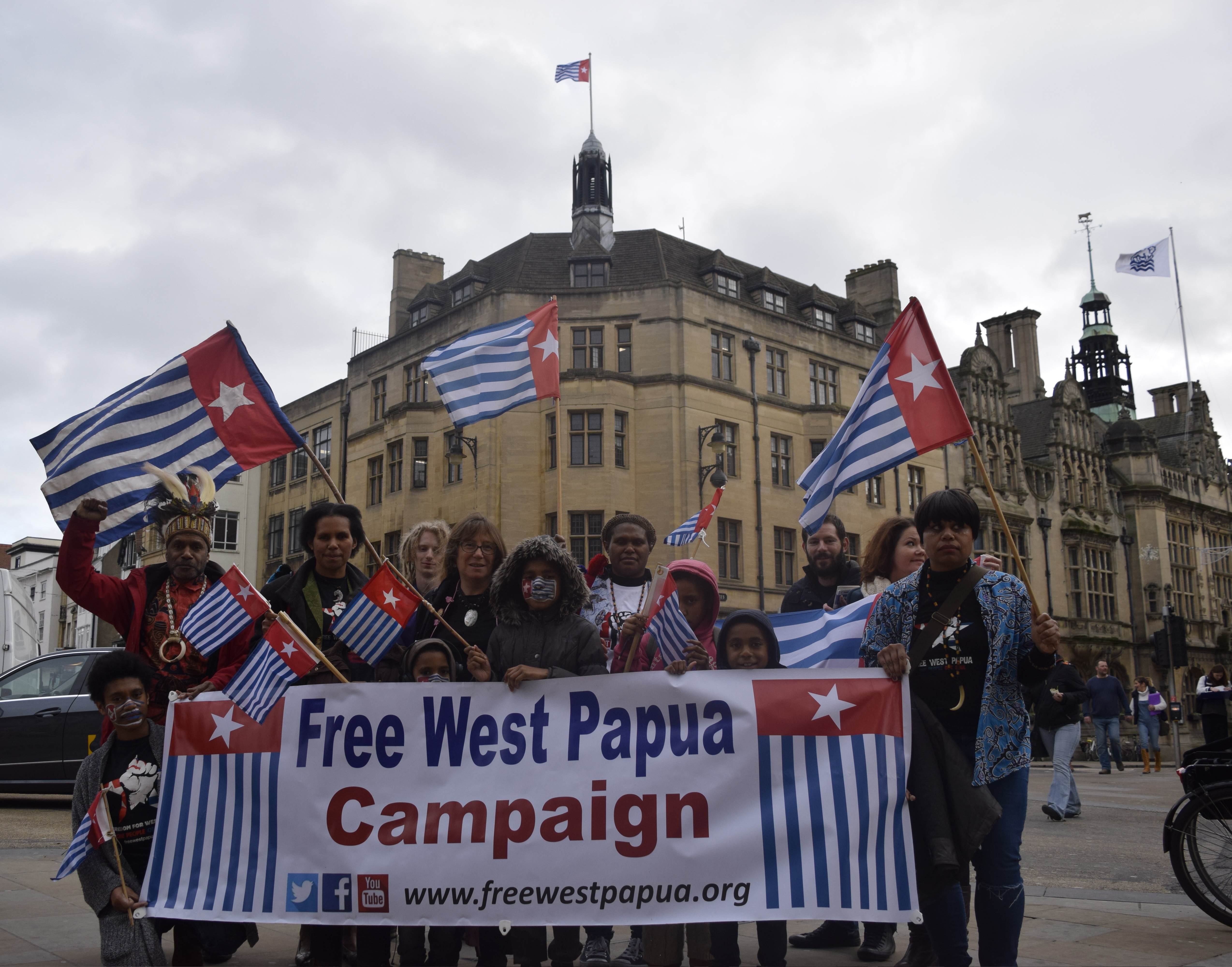 On 1st December, Benny Wenda along with members of the Free West Papua Campaign in Oxford, United Kingdom visited Oxford Town Hall.
Every year on 1st December the West Papuan flag is raised on top of Oxford Town Hall by the City Council to mark West Papuan National Day and to show support and solidarity with the West Papuan freedom struggle.
After witnessing the West Papuan flag being raised on top of Town Hall, Benny Wenda and the Campaign members were invited inside for a special meeting with Oxford City Councillor Elsie Benjamin who reaffirmed her continuing support for West Papuan self-determination and freedom. The West Papuan national anthem (banned in West Papua by Indonesia along with the West Papuan national flag) was sung and further support for a Free West Papua was discussed.
During the meeting, Benny Wenda read aloud a letter, thanking the Oxford City Council and the people of Oxford for all their continued support for West Papua's freedom. A full copy of this letter can be read below:
Dear Councillor Elise Benjamin, the wider Oxford City Council and all the people of Oxford,
On behalf of the people of West Papua I would like to offer you our most sincere and heartfelt thanks and gratitude for the incredible and outstanding support you have shown and continue to show us and our cause.    
Today, 1st December is a very significant fay for my people as it marks exactly 54 years to the day that the West Papuan flag was first raised with the promise of full Independence from our former colonial power (the Netherlands) in exactly 9 years' time. The Indonesian government illegally took control of West Papua in 1969 but our peaceful campaign for freedom has continued unabated despite increasingly brutal Indonesian state oppression, this struggle is now being passed onto the next generation of West Papuans.  We West Papuans view 1st December as our national day and in solidarity with our cause, the West Papuan flag is always raised around the world on this key date.
The Free West Papua Campaign was born in Oxford and with the incredible love and solidarity continuously shown to us by the city authorities and people of Oxford, we have become able to make it a truly International Campaign with now worldwide influence and a worldwide supporter base.
I remember with great fondness and confidence when we first launched the Free West Papua Campaign right here in this hallowed building of Oxford Town Hall and when the West Papuan flag was first flown here. Back then we had strong hopes for the future of the Campaign, but no-one could have anticipated the incredible effects of international solidarity for the freedom struggle that continues to forever increase so quickly. 
The West Papuan flag itself, known to West Papuans as the Morning Star, is such a poignant symbol of our struggle and represents the undying unity as one people among the many tribes of West Papua. It gives us West Papuans so much hope when we see our dear Morning Star raised on top of Oxford Town Hall every year. In West Papua we do not have the freedom to raise our national flag and doing so can even result in a 15 year jail sentence. Oxford Town hall has set a real precedent and now the West Papuan flag is being raised atop Town and City halls in countries all around the world. 
I would therefore like to thank you all for the truly valued, ongoing support shown for the West Papuan people, including in hosting today's important flag raising and function at town Hall. All the cross party representatives at Oxford's local level parliament certainly continue to show true spirit and unity in helping my people to be free from the ongoing illegal occupation of the country and the ongoing West Papuan genocide ;in which over 500,000 West Papuan people have already been killed.
I would also like to give special thanks to our long term supporters in Oxford such as Councillor Elise Benjamin, Andrew Smith MP and Lord Harries, former Bishop of Oxford. Together with many other notable figures and with all the people of Oxford, you have made we West Papuans feel truly welcome and safe in this great city where we can express our opinions freely. I have come to think of Oxford as being like my village as it is a home away from home for myself, my family and the West Papuan struggle. We will continue to campaign from this city until West Papua is finally free at last.
Today we symbolically give the West Papuan struggle back to the people of Oxford, reasserting the enormous trust we have in you all in continuing to advocate on our behalf for our freedom.
I look forward to keep walking arms in arms with yourselves and with my people as we continue walking down the long road to freedom.
We West Papuans feel that this Campaign is very safe in the hands of the people of Oxford. From this city and from all around the world, we are making West Papua's history and one day the people of West Papua will be sure to pay our forever enduring gratitude and thanks to you all of again when West Papua is finally free at last. Oxford will forever be in our hearts and minds.
Once again, thank you all very much, thank you all very much
My warmest regards to you all
Benny Wenda
West Papuan Independence Leader
www.bennywenda.org
www.freewestpapua.org