I am writing this letter to thank everyone who took part in the Global Day of Action for West Papua on 15th August to remember what we West Papuans know as "The Day of Broken Promise".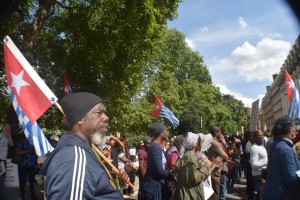 Around the world in at least 16 different cities in at least 13 different countries, demonstrations were held for a Free West Papua. They were held to demand that the Indonesian government fulfil their promise made on 15th August 1962 in the so called New York Agreement, to give a free and fair independence referendum for all West Papuans.
I feel that this years' Global Day of Action on 15th August was a landmark day in our international campaigning as it raised so much awareness and brought so many people around the world together in solidarity for West Papuan freedom.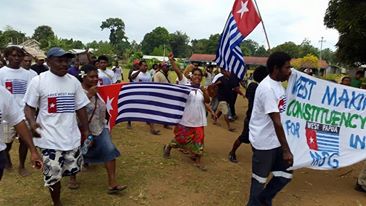 From the demonstration I spoke at in London I feel that the day went very well and we held the largest Free West Papua protest in the history of the United Kingdom with hundreds of people chanting for West Papuan independence! I would like to thank everyone who came to this demonstration and contributed towards making it a success, particularly Sister Juliet who worked very hard in getting so many people to support West Papua on the day and I am sure they will continue to do so.
Once again I would like to thank everyone so much for all their support in every way for making this Global Day of Action for West Papua what it was. Every day the momentum and support base for West Papua is growing bigger and bigger internationally as the struggle makes great steps forward all the time. I am looking forward to seeing similar scenes like we saw last Saturday, on 1st December (the next Global Day of Action); and forever in the future until West Papua is finally free at last.
Thank you all very much
Wa wa wa
Benny Wenda
West Papuan Independence leader
Spokesperson for the United Liberation Movement for West Papua (ULMWP)