Dear everyone,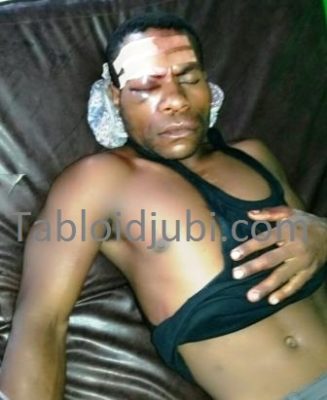 Yesterday at 8:00 in the morning 21 West Papuan people, men women and children were reportedly arrested by the Indonesian police in Yahukimo simply for distributing leaflets inviting people to a peaceful demonstration.*
A 26 year old West Papuan man tried to negotiate but was brutally tortured by the Indonesian police. According to a report, he was beaten with guns, rubber and rattan rope on his forehead, spine and rib. There are also reports that other West Papuan people were shot and tortured. It breaks my heart to hear of such ongoing acts of extreme brutality and sadism against my people.
Below activist footage can be seen of West Papuan people fleeing from the Indonesian police after the crackdown. It later shows an interview with those who were arrested and they are explaining that they were arrested and tortured simply for distributing leaflets. The Indonesian police took their shirts off, smashed up their motorbikes and confiscated their money and mobile phones. After eventually being released the people came straight from the police cell to the jungle to record this video message for the world to see.

I hope that as many people as possible hear about this new story of brutality in occupied West Papua. What kind of democracy is Indonesia when people in occupied West Papua are arrested and tortured just for distributing leaflets?
These brave people just wanted to invite others to join in a peaceful demonstration on 19th September to show our backing to our fellow Pacific nations who are supporting West Papua and our fundamental right to self-determination. There are also reports that other West Papuan people were stopped by the Indonesian police just for distributing similar invitation leaflets in the capital city of Port Numbay/Jayapura.
This is more evidence that the Indonesian government is becoming increasingly scared of the growing international support and solidarity for West Papua's freedom. In West Papua, the Indonesian police and military who torture and kill West Papuans are never brought to justice.
But those responsible must be brought to justice. I want to tell the world to please stay alert as they may be many more West Papuan people soon arrested and tortured on 19th September as they risk their lives again to tell the world that we desperately need international support for our freedom.
The Free West Papua Campaign will continue to publish updates on the situation as events proceed on 19th September so for the latest information please do follow the Free West Papua Campaign on Facebook and Twitter. 
Please support the people of West Papua, who continue to be killed and continue to struggle to be free at last from genocide and colonialism.
Free West Papua!
Benny Wenda
West Papuan Independence Leader
Spokesperson for the United Liberation Movement for West Papua (ULMWP)
*The names and ages of those known to be arrested are as follows: Ruben Wakla (18) , Arpius Magayang (18), Yeni Mambrasa (16), Anike Mohi (22), Menus Salla (16), Elka Payage (17), Yoas Payage (17), Anto Soll (26), Laki Balingga (17), Beto Suhun (26), Kayus Soll (27). Kemudian, Putiman Wakla (24), Yoel Soll (25), Anius Baye (23), Deko Kobak (16), Menus Salak (17), Elimas Soll (18) and Anto Soll (15).