To the International Community,
Tomorrow, 15th August the people of West Papua are set to take to the streets, to demand justice after 54 years of Broken Promise.
15th August 2016 marks exactly 54 years to the day that we the people of West Papua had our freedom and nationhood sold to Indonesia.
On this exact date in 1962, the Netherlands-our former colonial rulers, Indonesia-our current colonial rulers, and the USA-with economic and cold war interests in West Papua met in New York and agreed to hand over West Papua to Indonesia. 
This so called "New York Agreement" was held behind closed doors in New York under the watchful gaze of the Statue of Liberty. It was held without consultation from ANY West Papuan people. We were not allowed at the table, in the room or even in the building.
Imagine a conference on Indian independence without any Indians, or on majority rule for South Africa without any Black South Africans?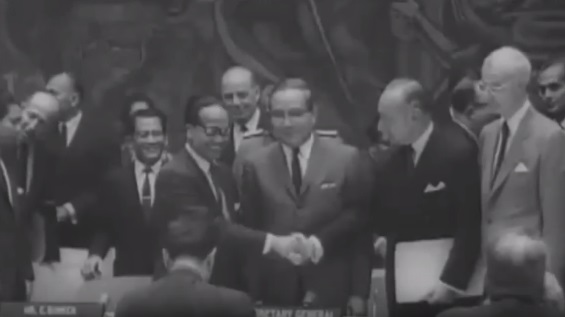 How can an entire nation be sold for the sake of cold war politics without ANY AGREEMENT from the local people?
The only fairness was that this agreement promised a free and fair referendum on independence for ALL West Papuans within the next few years; the so called "Act of Free Choice". However we the people of West Papua call this the Act of NO Choice because what actually
happened was just 1,026 people being hand-picked by the Indonesian government and forced at gunpoint to vote for joining Indonesia.
We West Papuans therefore call 15th August the Day of BROKEN PROMISE because the promise of an Independence referendum was BROKEN by the Indonesian government, right under the nose of the USA, the Netherlands and the UN. Since that time, the people of West Papua have continued to endure brutal genocide by the Indonesian authorities and it is estimated that over 500,000 West Papuan people, (nearly a third of the population) have been killed. If the world continues to turn a blind eye to the situation in West Papua, soon there will be no more West Papuan people left.
Because of all this injustice, tomorrow the people of West Papua are set to rally across the country to demand JUSTICE and to demand that the promise be fulfilled in an Internationally Supervised Vote on Independence for ALL West Papuans. We still have the fundamental right to self-determination under International Law. Other rallies are also taking place across the world*, including in Australia, the Netherlands, the United Kingdom and Indonesia.
Because West Papua is a different nation to Indonesia and had it's Independence stolen from Indonesia, we also declare that we the people of West Papua have never recognised and will never recognise Indonesia's Independence Day in our sovereign territory of West Papua. All nations have the right to Independence, but we want to make it clear that Indonesian Independence Day has nothing whatsoever to do with West Papua and as such we the people of West Papua do not recognise Indonesian Independence Day on 17th August 2016 as including West Papua.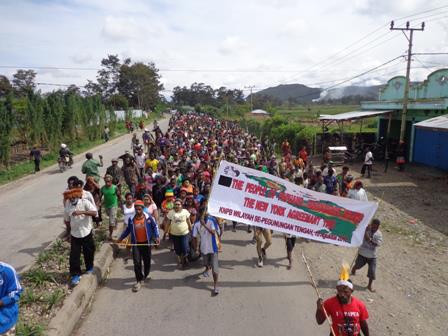 On behalf of my people I therefore call upon the International Community to please turn it's gaze to West Papua and to please stay alert and closely monitor the increasingly dangerous situation. Already at least 56 West Papuan people have reportedly been arrested simply for distributing leaflets about tomorrow's rallies and it is expected that many more may be arrested tomorrow for joining these demonstrations; arrested for peacefully exercising our right to freedom of expression and for calling to be free.

In just the last few months, thousands of West Papuan people have been arrested and many tortured for joining such peaceful actions. In fact just last month, West Papuan students were arrested, tortured, racially abused had their rooms besieged by the Indonesian police and Indonesian militia; just for peacefully demonstrating. Such brutality is indicative of an increasingly worsening human rights situation in West Papua and of an Indonesian government which is increasingly cracking down on all forms of West Papuans' freedom of expression.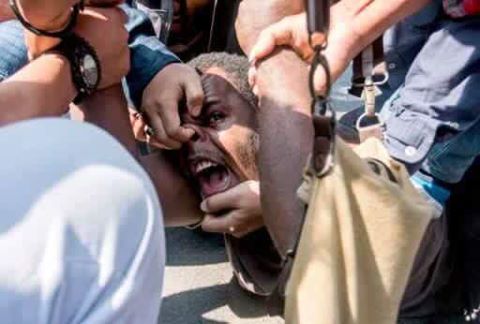 On behalf of my people I call upon international organisations like Amnesty International and Human Rights Watch to please monitor the volatile situation in West Papua closely and to please advocate for our human rights which are being suppressed, including the rights to assembly and freedom of expression.

The Free West Papua Campaign will continue to update the situation in West Papua on it's website as well as the Facebook and Twitter sites, #FreeWestPapua so please do follow these for the latest news from occupied West Papua.
We the people of West Papua continue to risk our very lives to tell the world that we need international support to be free people at last. Please watch the situation in occupied West Papua closely and help to support the people of West Papua in our long struggle for freedom.

Benny Wenda
West Papuan Independence Leader
Spokesperson for the United Liberation Movement for West Papua (ULMWP)
*
Rally for West Papua being held in London, United Kingdom:
Meet 10.30am/11am Traflagar Square. Wear white & bring a drum.
We will then march to PNG embassy where we will hand in a letter to request PNG supports West Papu's full membershiip to MSG; on to Buckingham Palace, and finally to the Indonesian Embassy 1.30 where we will make some noise. Drumming. And talk by Benny Wenda and special guests.
Rally for West Papua being held in Den Haag (The Hague), Netherlands: 14:00 to 16:00 Peace Palace (Vredespaleis)
Rally for West Papua being held in Perth, Australia: Please visit the Free West Papua Campaign (Western Australia) Facebook Page for more information.