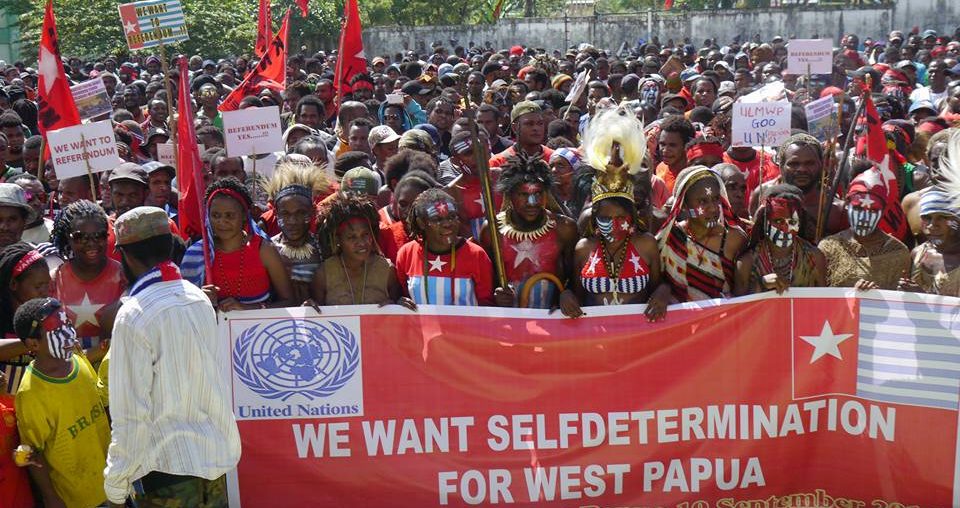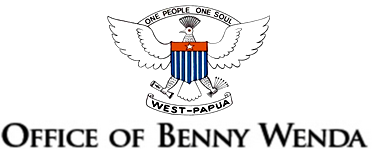 From 1st May to 3rd May, the eyes of the world are set to turn to West Papua as the suffering and struggle of the West Papuan people begins to be exposed to the international community. There will be a Global Action for West Papua between 1st and 3rd May around 3 main issues.
The Day of Terror
1st May is known to the people of West Papua as "The Day of Terror" as it was on this day, 1st May 1963 that Indonesia first annexed and occupied West Papua. This day marked the beginning of all the woes of the West Papuan people and the beginning of our genocide which has already resulted in the deaths of over 500,000 West Papuan men, women and children. There was no integration on 1st May, there was an annexation which has since resulted in a litany of some of the most brutal human abuses in history. Therefore all around the world on 1st May, demonstrations will be held to reject Indonesia's occupation and to call for the restoration of West Papua's fundamental right to self-determination.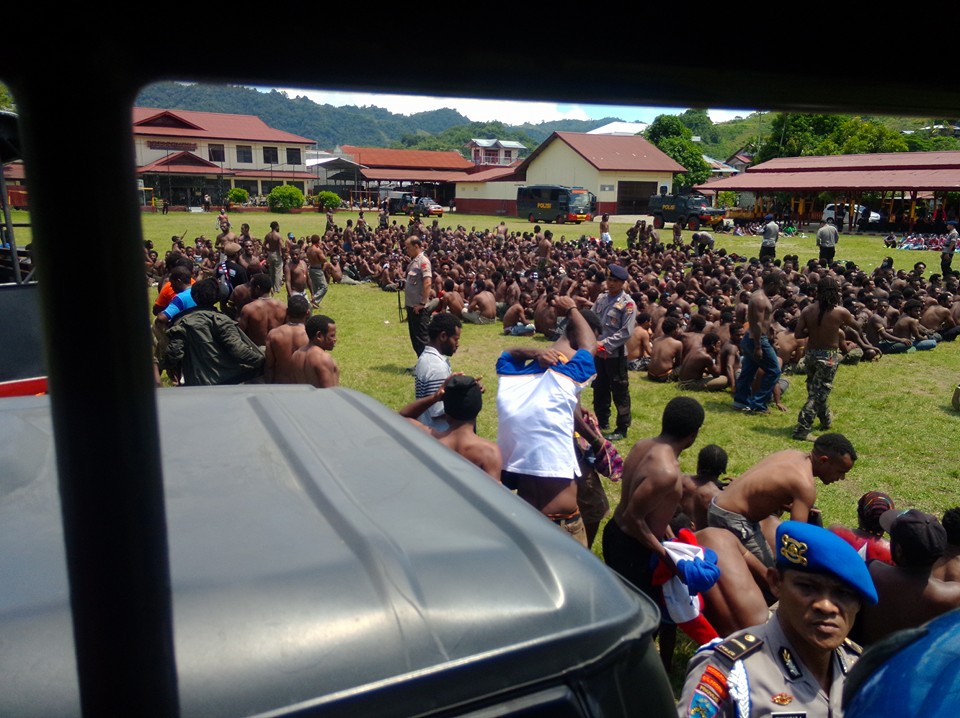 Indonesia's Periodic Human Rights Review
Then on 3rd May Indonesia's Universal Periodic Review will be held at the United Nations Human Rights Council. As many as 93 countries are set to question Indonesia's appalling human rights record, including in West Papua. It is time for the more than 50 years of brutal human rights abuses in West Papua to be exposed at the United Nations.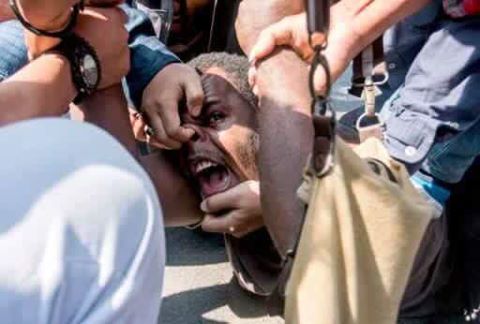 The people of West Papua are calling on the Indonesian government to allow an independent human rights fact-finding mission full access to West Papua. For decades, we have heard empty promise after empty promise of the Indonesian government claiming to investigate human rights abuses in West Papua but in reality that has had no effect whatsoever. In fact, the new Indonesian Security Minister Wiranto is wanted by the United Nations for crimes against humanity and is now responsible for addressing human rights abuses in West Papua. How can those who has commit crimes against humanity, independently investigate their own crimes against humanity?
It seems to be fate that this poignant date is also the 1 year anniversary of the Westminster Declaration for an Internationally Supervised Vote for West Papua. This historic declaration has galvanized international support for West Papuan self-determination amid harsh crackdowns by the Indonesian government. In 2016 alone,over 1700 people were arrested just for peacefully demonstrating in support of this declaration. Such arrests did not get the amount of international media needed, because the Indonesian government has been able to block press freedom in West Papua for decades.
World Press Freedom Day
It is an incredible irony then that on 3rd May Indonesia is also set to host World Press Freedom Day 2017. As it is widely internationally documented, there is no press freedom West Papua. Foreign journalists are routinely denied access to West Papua and those that do gain access are told only to report on what the Indonesian government tells them to. In the last 7 years, 3 journalists have been killed in West Papua and over 20 have been assaulted by Indonesian security forces.
The Indonesian government confidently claim that they are a democratic country and that there is freedom of the press in West Papua. If that is the case, they need to let journalists into West Papua, not only on paper, but on the ground. All foreign journalists and media outlets should be allowed full access to West Papua without a clearing house process. They should be allowed without being told what to report and without being monitored by the police, military and intelligence services, without being intimidated, jailed and deported. It is time now for Indonesia to do as they promise in West Papua, or be forever known as the country that hosted world press freedom day with no press freedom.Therefore between 1st May and 3rd May, there will be a Global Action for West Papua to demand press freedom. Demonstrations will be held around the world in solidarity with the West Papuan people and freedom of the press.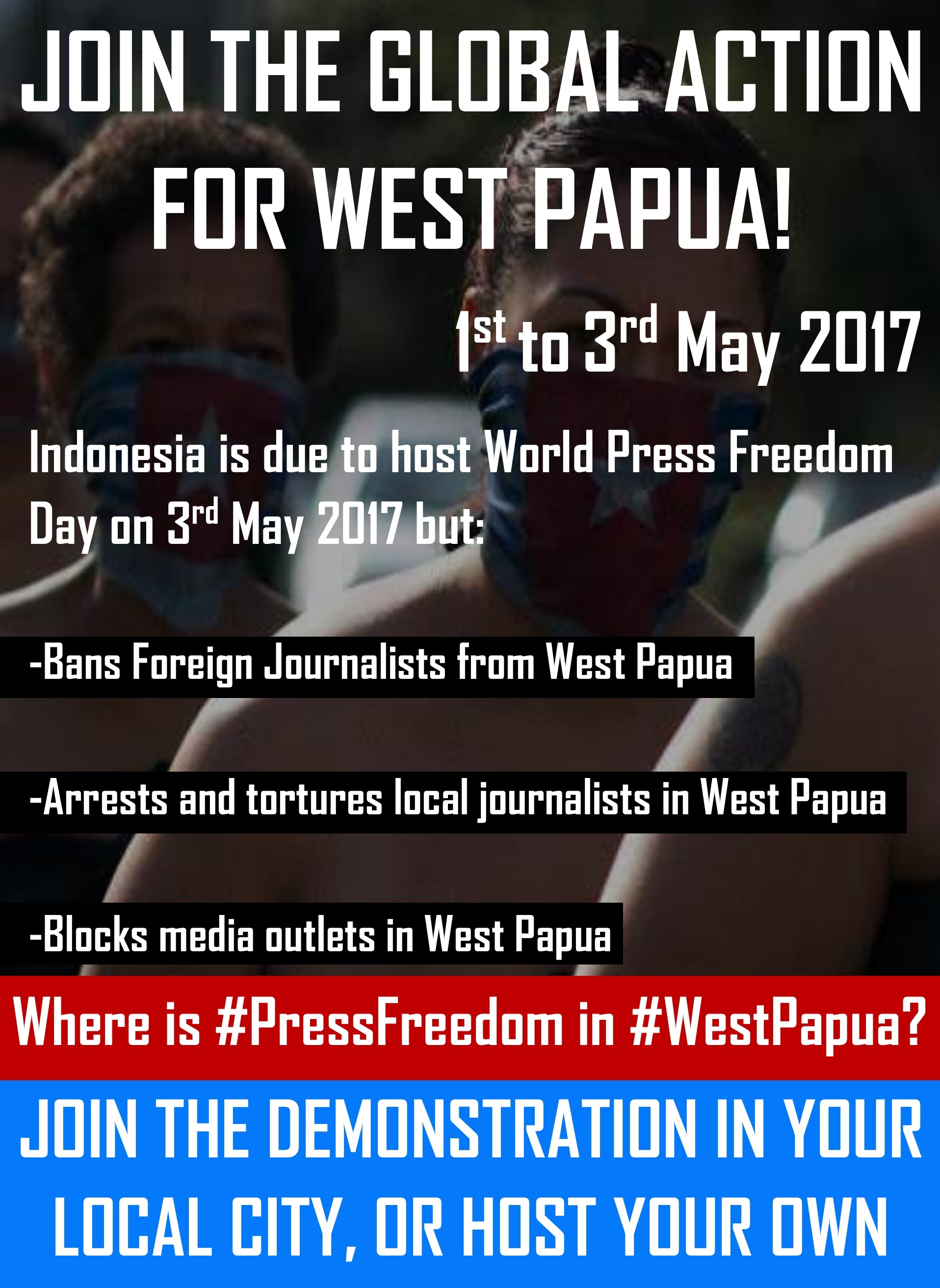 As you read this statement, people in West Papua are being arrested and attacked by the Indonesian military police. There is no freedom of expression in occupied West Papua. We desperately we need international attention now before it is too late. Please do continue to watch and continue to support the people of West Papua and our struggle for our fundamental right to self-determination.
Benny Wenda
West Papuan Independence Leader
Spokesperson for The United Liberation Movement for West Papua (ULMWP)