Benny Wenda, the journey from Abepura prison to chairman of the ULMWP. Article from Suara Papua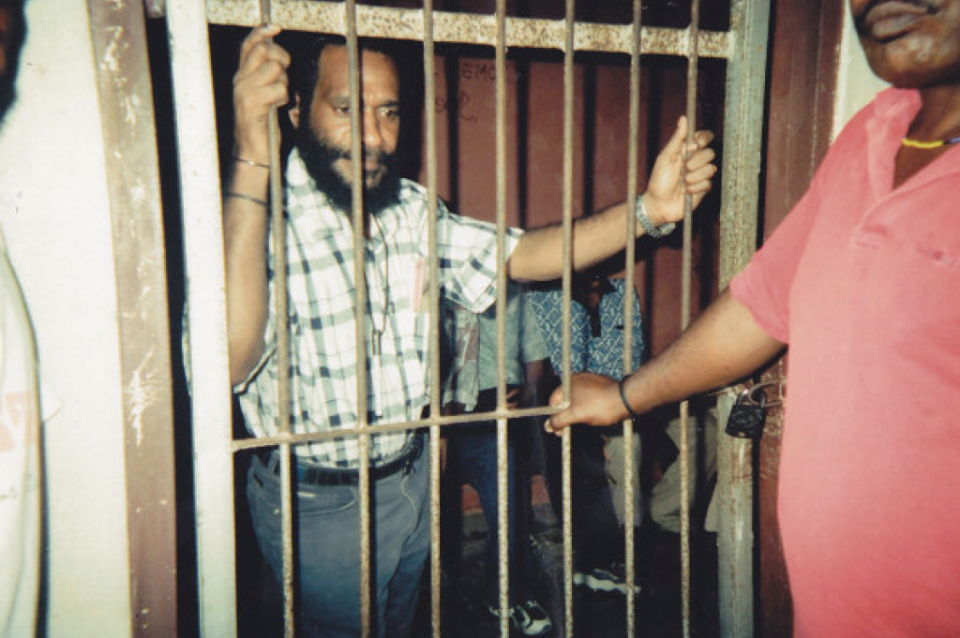 Part 1. From the highlands of West Papua
In the 1970s the Indonesian government carried out operation Koteka in the Central Highlands of West Papua and the peak was 1976-78 which killed thousands of people and destroyed our villages, pigs and gardens. In some international reports write with different number of victims. Asia Human Right reports 4,146 people (AHRC and ICP 2013) , while the Catholic Justice and Peace Commission of the Archdiocese of Brisbane reports 25 thousand people (APCAB, 2016) . The incident then caused a massive refugee wave. They fled to Mamberamo, Jayapura to the country of Papua New Guinea (PNG) by foot and thousands of people died on the way.
Indonesia uses the term "Operation Koteka". Koteka is our original clothes. When Koteka is broken, crushed and broken, man becomes naked, powerless, self-esteem and degraded life. He felt himself insignificant, considered non-human, humiliated and annihilated. This is the symbolic meaning of Operation Koteka that the Indonesian government applied to disarm, destroy and clean the Papuans of their life and world. The symbolic meaning is evidenced by the number of victims of the operation.
In this situation Benny Wenda and all of us who were born and raised in the forests which were our parent's refuge from the 1980s to the early 2000s, really felt the discrimination built among the people and schools in Papua. The Indonesian government, migrants and other affiliated groups always label us with Koteka. In their view, Koteka is identical with backward, poor, stupid and humiliated.
At my school (the author), we are identified with that view. This view is systematically constructed in Indonesia to place Papuans in a subordinate and racist position.
Benny Wenda himself has experienced many discriminations with such stereotypical labels. In high school he was spat on his face by a migrant girl because of his racism.
Starting from that experience, he rose to lead the Koteka community in Jayapura and surrounding areas to show Koteka's identity. He realized that his people had tremendous potential to rise up and show their identity with Koteka's symbol. We are human beings equal to others.
Koteka is the basis and identity of our intellectual works. We are tough people and work hard in the gardens, pigs, build bridges very regularly, fences of houses and gardens neatly arranged, we live and settle permanently in our homes and villages, and have high civilization. The conditions of life and civilization have been written and recognized by various scientists and missionaries, for example: Lieshout 2009, HJ Bijlmer 1935, Eyma 1940, and Richardson 1971, and others.
All our intellect and knowledge does not come from outside, not taught by others from across the ocean. We are civilized people and live freely without the interference of others. Koteka people have built and developed civilization itself without the help of others.
It is time Koteka people must rise up and show their identity as civilized man, independent and sovereign. In that view, Benny Wenda and his friends formed the Koteka Community Consultative Council (DeMMAK) in Jayapura.
The objective is to bring together the Koteka people, generate cultural identity and fight for peaceful independence of Papua. This council was formed under the name Koteka is a reaction to discrimination and racism applied by the government and people of Indonesia, as well as other groups who have such views.
DeMMAK has consistently fought for self-determination and rejected Papua's special dialogue and autonomy. This attitude is expressly addressed in the Papuan Supreme Congress and the Papuan Congress II that DeMMAK expressly declared a rejection of dialogue with Jakarta and the Special Autonomy of Papua.
They come Papuan congress in 2000 by embellishing the body with various cultural attributes and paralyzing the city of Jayapura and towards the Sports building, where the Papua II Congress is being held. The author then followed the mass of student action from various universities and gathered at the Cenderawasih University yard, then headed to Jayapura. The student action masses from front of the Police Headquarters reached the sports courtyard, two hours later the Koteka people came and covered the entire location. They all wear original clothes with decorated various cultural attributes. The situation makes us feel like a perfect human being or feel ourselves complete.
Our spirit has risen and all Koteka students who live there join the newly arrived Koteka community. Because of this revival our spirit that has been killed Indonesia has been alive again and shows its identity.
That day Benny Wenda has returned the spirit and awakened our identity as Koteka man in Jayapura. This is the spirit and starting point of Koteka's human revival and openly declares to Indonesia and others that Koteka is our identity and self-esteem.
Our skin, hair and soul can not be changed with the image of others as in various Indonesian propaganda. We are Koteka people and we are the heirs of the land and the country. Our ancestors were placed on this land since creation and will be inherited to our children and grandchildren.
Koteka is not our backwardness, but the intellectual work of our ancestors.
Through this organization, Benny Wenda emerged as a very strong potential young figure in the struggle for Papuan independence. For Indonesia, Benny's emergence posed a serious threat to the existence of their occupation and colonialism in West Papua.
By Ibrahim Peyon. You can read the full article here.