On behalf of the West Papuan people, I am calling on all our supporters, our lawyer groups, parliamentarians, our solidarity groups and other allies, to raise the Morning Star this December 1st.
We know that the gaze of the world is currently on Gaza and the horrific events occurring there. We also know that the world has stood behind Ukrainians in their resistance to Russia's invasion. But people must understand that what is happening in Palestine and Ukraine is happening in West Papua too. Illegal invasion, occupation, ethnic cleansing, genocide – West Papuans have lived under these conditions for sixty years.
Over the last year we have suffered massacres in Wamena, Yahukimo, and Fakfak. Mass displacements have occurred in Yahukimo and Nduga, adding to the 100,000 likely displaced by Indonesian military operations since 2018. Over 76,000 Papuans are currently refugees in their own land. Elders are forced to go without food and water; children without education; women have to give birth in the bush without medical assistance. This is a profound humanitarian crisis – and yet Indonesia has responded by continuing to ban international journalists, and preventing aid from reaching those who most need it.
West Papuans who are forced to flee often cannot return to their villages because they are continually occupied by Indonesian soldiers. This is their ecocidal strategy in West Papua: to clear the people and then exploit the land. Working in tandem with international corporations, Indonesia is now destroying the Papuan forest at an unprecedented speed. Our ancestral lands are being ripped apart by new mega projects like the Merauke Food Estate and the Wabu Block gold mine.
As well as mourning the horrific events of the last year, this December 1st will also be a celebration of the ULMWP Congress, which will take place on 19th and 20th November. This Congress is a show of the people's will, the people's choice – a celebration of the democracy we are aiming to create in an independent West Papua.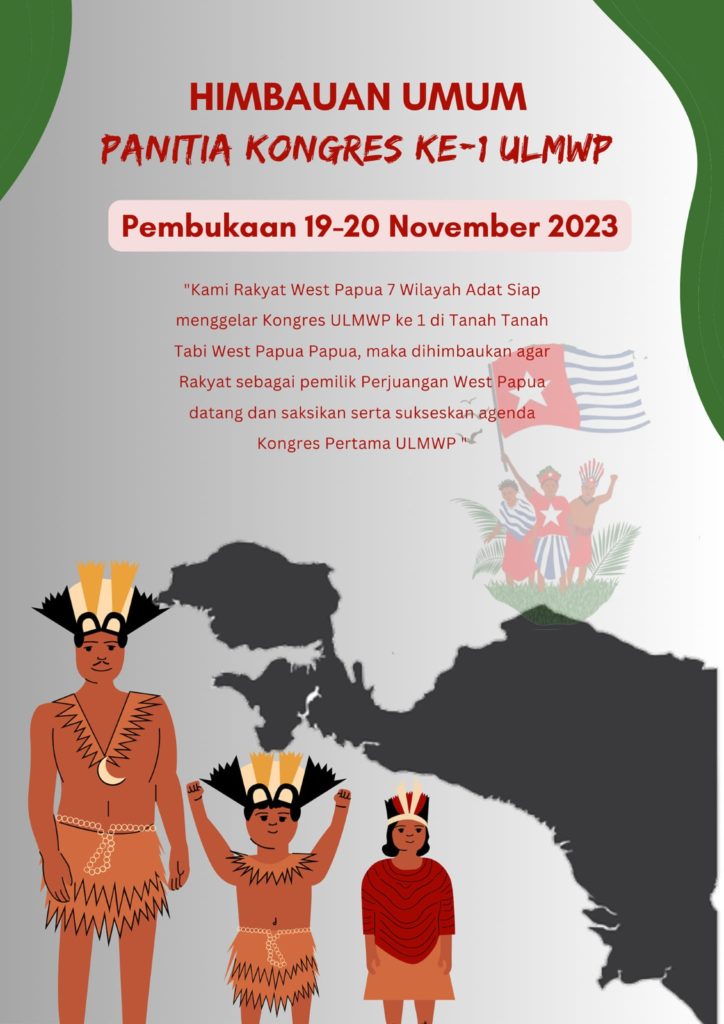 The Morning Star is not just a flag. It is a symbol of our unified struggle, and a promise that we will one day reclaim our stolen sovereignty. On December 1st 1961, the Morning Star was flown in Jayapura, our national anthem was played, and West Papua was close to becoming the first independent Melanesian nation. This is why it is so painful that flying the flag is now illegal. Anyone who raises it, at a protest or religious ceremony, can be given up to 25 years in prison. This was my fate, along with many other heroes of our struggle, like Filep Karma and Jonah Wenda. If I did not escape, I would still be in prison now.
So, to all our supporters outside West Papua, I am asking that you fly the Morning Star this December 1st for all West Papuans who cannot do so without risking arrest, torture and death. You can be the voice of the voiceless.
For everyone inside West Papua, whether you are living in the cities, in the refugee camps, in exile, or as guerilla fighters in the bush, December 1st should be a day of both celebration and quiet remembrance. Celebration of all we have achieved over the past six decades, and remembrance of all those we have lost in the struggle. I am calling on West Papuans to hold prayer meetings for quiet reflection.
God bless West Papua. Papua Merdeka!
Benny Wenda