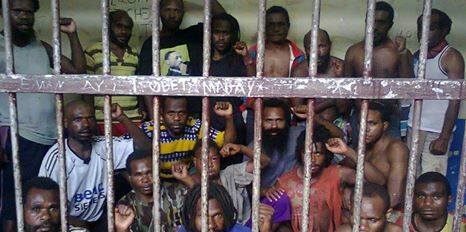 Dear friends,
After the success of joining the Melanesian Spearhead Group (MSG), we West Papuans have been celebrating and giving thanks, showing our gratitude to our Melanesian brothers and sisters and all supporters for welcoming us back into the Melanesian family.
However despite this international recognition for our peaceful movement, the United Liberation Movement for West Papua (ULMWP); we are still being treated like animals by the Indonesian government and are persecuted for our every activity within West Papua.
On 3rd July, the ULMWP Secretariat in Fakfak, West Papua was raided by the Indonesian military and police just because the people of Fakfak were giving thanks and prayer after West Papua was welcomed back into the Melanesian family. According to recent information nearly 100 people were brought to the police station including the elderly, mothers and children. They were interrogated about the ULMWP and many of their personal belongings were stolen by the police. The 3 local ULMWP leaders, Apnel Hegemur, Roy Marten Mury and Lukas Mardani Hegemur were locked up and are still awaiting trial for 'unauthorised activities'. They have been told by the Indonesian police not to move and not to do any activities.
After the raid and arrests of West Papuans just for praying, drinking coffee and giving thanks, the people of Fakfak are still living with the constant threat that they may be the next target of further Indonesian repression.
We West Papuans are just peacefully giving thanks and expressing our desire to be free and our support for the ULMWP.
Do we need to be arrested and jailed for this?

Do we need 'authorisation' from the Indonesian police to pray, drink coffee and give thanks?
The ULMWP has been officially recognised by the Melanesian Spearhead Group and our Melanesian family are now fully aware of what we are doing and why we are struggling for self-determination and independence.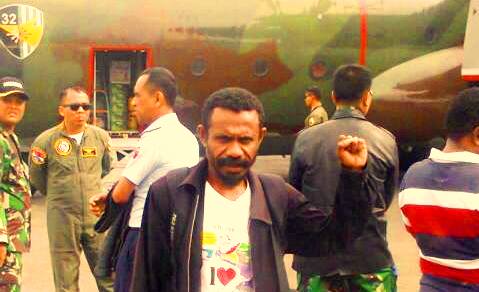 They know that we Melanesians are being arrested, tortured and persecuted in West Papua just for supporting the ULMWP like the people arrested and interrogated recently in Fakfak.
I want ask the MSG and the wider international community to please continue to look and see the ongoing oppression of my people by the Indonesian authorities, including at ULWMP meetings. The Indonesian government knows that the ULMWP has been officially recognised by the Melanesian Spearhead Group and they claim that Indonesia is a democratic country so why do they continue to orchestrate the attacks and brutal suppression of all ULMWP activities in West Papua?
I would like to ask everyone to please remember these brave West Papuans locked behind bars in Fakfak just a few days ago. They are not in jail for any crime but simply for standing up for their rights to self-determination and freedom, as a colonised people. We will continue to stand up for these fundamental rights and for the full liberation and independence of West Papua at last.
I send all my strong solidarity and thoughts with the fellow Papuans arrested and interrogated in Fakfak as I and people all over the world call for their immediate and unconditional release.
I am very grateful for all the increasing support from around the world and send my warm regards to all supporters as well.
We continue to make great progress in the freedom struggle and I am fully confident that we will only go from strength to strength. Let us remain united, certain in our goal and keep up the struggle for the full liberation of West Papua.
Benny Wenda
West Papuan independence leader
Spokesperson of the United  Liberation Movement for West Papua ULMWP
The names and ages of some of those known to have been brought to the police station include: Naptali Hegemur 40, Yermias Herietrenggi 34, Yusuf Bahba 61, Isak Sepi Bahba 23, Merkon Bahba 32, Modestus Komber 28, Jimmy Herietrenggi 35, Bernadus Herietrenggi 32, Renol Hegemur 37, Nikodemus Hegemur 23, Ny. Maryana Patiran 38, Ny. Petersina Hegemur 46, Ny. Maria Hegemur 55, Armando Bahba 17, James 3 (infant), Wilem Mury 1, (infant) Simon Mury 52, Morthen Kabes 21,  Yermias Hegemur 46,  Tuda Taswa 36,  Edwin Hindom 29, Flerius Bahba 15,  Baron Tanggarery 27, Lanus Hegemur 43, Antonius Mury 32,  Obet Hegemur 30, Kelly Hegemur 28, Penile Hegemur 63, Kenebon Tigtigweria 21, Bernat Hegemur 20, Epy Hegemur 14, Riki Hegemur 20, Yusuf Hegemur 17, Naptali Iba 36, Imanuel Iba 47, Ny. Herlina Geredenggo 23, Ny. Ana Hegemur 34, Ny. Sara Kabes 24.