Statement from Benny Wenda – 1st December 2016
On this day of raising awareness about the plight of the indigenous Melanesian people of West Papua I want to take a moment to reflect on the escalating conflict taking place in Cannonball North Dakota in the USA.
We want to extend our friendship to the Standing Rock Sioux Tribe who are peacefully rallying to protect their people, their sacred places, the sovereignty of their land, and their natural resources. On behalf of the people of West Papua we offer solidarity to our indigenous brothers and sisters as we intimately understand the complicated struggles they are facing.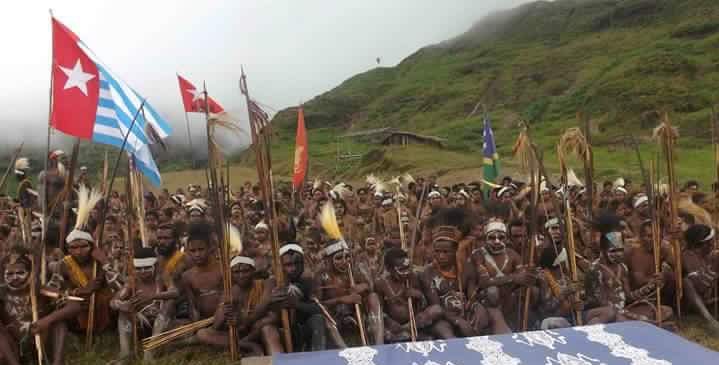 After fifty four years of occupation under Indonesia's violent and oppressive rule, my people are facing a slow genocide causing us to rapidly disappear from the land we have been the successful caretakers of for more than forty thousand years. We now look to the struggle of indigenous people in North America to survive the largest and longest ongoing genocide in history. We are alarmed that their people, lands, and traditional ways of life have become threatened to the point of extinction.
While our campaign's profile has become more visible globally, we have seen an unprecedented increase in arrests of peaceful protesters inside West Papua. As we witness militarized law enforcement agencies commit acts of violence against peaceful water protectors in the U.S., it reminds us of our own mistreatment at the hands of those intending to overpower and silence our voices. Human rights abuses committed against Melanesians, the Sioux, or any indigenous people in isolated communities around the world is an unacceptable practice that has no place at this time in human history.
I call on all of our global campaign allies to join me in supporting the Standing Rock Sioux Tribe as they begin a Global Month of Action, and ask that you stand with them and all indigenous people who share the common goal of seeking social and political justice.
The urgent situation at Standing Rock reminds us to advocate for the right of every indigenous person to protect their culture and religion, tribal systems and natural resources. We must ensure the empowerment of all indigenous leadership, including women and youth, to fully engage in the decision making processes that affect our quality of life and future.