On behalf of my people, I am demanding that the Indonesian police immediately stop interrogating West Papuans for supporting the United Liberation Movement for West Papua (ULMWP).
What crime is there in supporting a peaceful organisation that advocates for your basic rights and freedoms that should be guaranteed to all?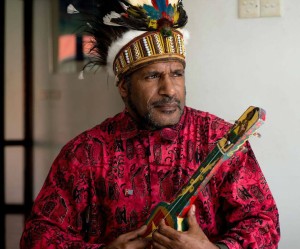 ULMWP was formed to unite all West Papuans together in the struggle for Independence and ever since its formation, ULWMP has continued to drive the West Papuan Independence movement to higher and higher levels. As a result, international support and recognition for West Papua continues to grow every day.
Recently the Indonesian police have been ruthlessly interrogating several West Papuans in the town of Wamena after the historic opening of the new ULMWP office there.
According to reports, Bonny Mulait, Engel Sorabut and Pieter Wanimbo were all interrogated by the Indonesian police on Wednesday 24th February. This follows the interrogation of other local leaders that were present, Edison Waromi, Markus Haluk and Priest, Father John Djonga. Bonny Muliat said he was questioned for 3 hours about the ULMWP by the Indonesian police and Father John Djonga was questioned for 4 hours.
He boldly declared "It has been my work in the region with conflicts like this. I have no fear," and "There's no way I can just stand still while the Papuan people face injustices and violence,"
Local leaders in occupied West Papua continue to be threatened by the Indonesian authorities for protecting West Papuan rights and in 2008, a group of Indonesian soldiers threatened to bury Father John Djonga alive if he continued helping West Papuans from the Keerom district whose land was stolen by palm oil companies.
The ULMWP is a legally registered group in the Melanesian Spearhead Group (MSG) and therefore what right do the Indonesian authorities have to interrogate peaceful members and supporters of an internationally recognised organisation?
The real criminals in occupied West Papua are not the West Papuan people who support ULMWP and peacefully advocate for Independence through self-determination. The real criminals are the Indonesian authorities who continue to brutalise and kill West Papuans as if we are animals, just for speaking out in this deteriorating climate of fear and repression.
We do not want the Indonesian authorities to continue to occupy our lands and interrogate and torture innocent people who call for freedom. All we want is to have our fundamental right to self-determination fulfilled so that we will at last live in a free and Independent West Papua.
Once again on behalf of my people I demand an end to the brutal interrogation of innocent West Papuans supporting ULMWP and I demand that all those arrested and imprisoned for supporting West Papua's freedom are released. The Indonesian government cannot hide from the truth. They are acting illegally in an occupied country and we will continue to demand our freedom until we are finally Independent and free.
Benny Wenda
West Papuan Independence Leader
Spokesperson for the United Liberation Movement for West Papua (ULMWP)