On behalf of the people of West Papua and the United Liberation Movement for West Papua, I would like to pay our sincerest condolences and respects to a true Melanesian hero, the President of Vanuatu Hon. Baldwin Lonsdale. President Lonsdale tragically died yesterday in Port Vila, Vanuatu as hundreds of people held a vigil for him.
The President was and remains a true inspiration for the people of West Papua and did so much to help support us and our struggle for freedom. People inside West Papua, in refugee camps and those living in exile will all remember him and his life's message. An outspoken supporter of Melanesian solidarity, in 2014, he was key in helping the formation of the United Liberation Movement for West Papua (ULMWP).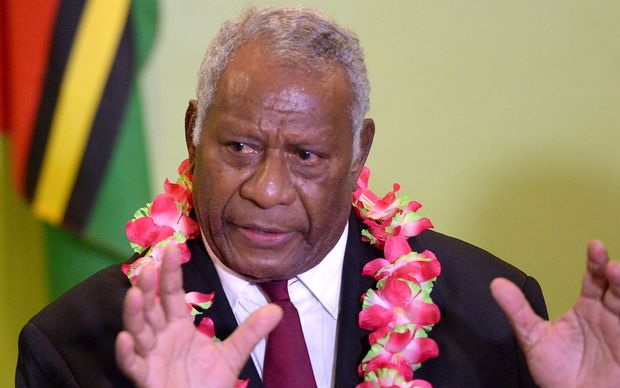 President Lonsdale was also a renowned statesman, universally loved across Melanesia who took a firm stance against corruption and passionately advocated for human rights. It is for reasons such as this that to many in the Pacific, Vanuatu acts as a moral leader of the world.
It brings true sadness to my heart to consider the passing of this great man. He will be dearly missed by all the people of West Papua who continue to suffer under illegal Indonesian occupation and genocide but do not suffer alone while we have such brave supporters like President Lonsdale. He encouraged other Melanesian and Pacific nations to follow Vanuatu's example, saying "It is a challenge for the Pacific, especially Melanesian brothers to stand united with them".
Therefore we send our deepest and sincerest condolences to the friends and family of President Lonsdale and the entire nation of Vanuatu. From the very beginning Vanuatu has been a truly strong supporter of West Papua, at first alone and now with the increasing support of many other nations around the world. Whenever I go to Vanuatu, it feels like I am coming home to be with such truly kind spirited brothers and sisters.
History will all ways remember you and your effort dear President, for West Papua and for others all around the world. Your spirit will continue to live on and inspire Melanesians, Pacific Islanders and people all around the world to strive for peace, freedom and justice. Know that you will be forever in the hearts and minds of the West Papuan people as we continue to struggle for freedom in the spirit of our fallen comrades.
May God Bless you, the Republic of Vanuatu and all the Pacific.
Wa wa wa
Benny Wenda
West Papuan Independence Leader
Spokesperson for the United Liberation Movement for West Papua (ULMWP)