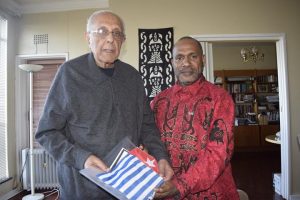 It is with great sadness that we hear of the passing of Mr Ahmed 'Kathy' Kathrada. On behalf of the people of West Papua I offer our condolences to his family, friends and colleagues. Mr Kathrada, as a leader of the anti-apartheid movement in South Africa, was, and still is, an inspiration to millions of people around the world who struggle against injustice including the people of West Papua.
I had the great honour to meet Mr Kathrada in Johannesburg in 2015. His presence and words gave me great confidence to go forward with our own struggle for justice knowing that history will always show the truth. He showed that with courage, humility and dignity seemingly impossible dreams can become reality. Despite 25 years in jail for his beliefs he never gave up. The people of West Papua will never forget Ahmed Kathrada and the words of hope he gave to us.
Benny Wenda
Nobel Peace Prize Nominee
West Papuan independence leader.