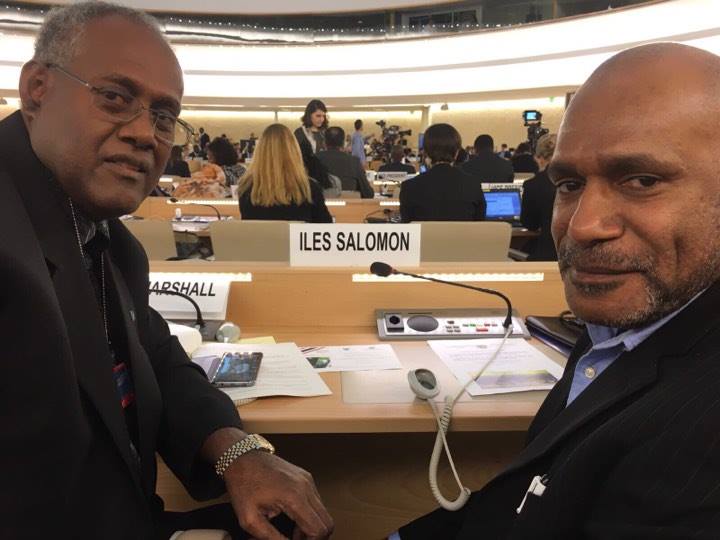 Benny Wenda is in Geneva alongside General Secretary Octovianus Mote and other members of the United Liberation Movement for West Papua (ULMWP) at the 34th Session of the United Nations Human Rights Council. Benny Wenda and the ULMWP are also lobbying alongside the Pacific Islands Association of Non-government Organisations (PIANGO) and other human rights organisations.
On 1st March, Hon. Ronald K Warsal MP, Vanuatu Minister of Justice and Community Development, addressed the Human Rights Council about Indonesian state violence in West Papua. His address was made on behalf of Vanuatu, Solomon Islands and the other 5 members of the Pacific Coalition for West Papua. The landmark speech upheld the human rights of the people of West Papua, including the fundamental right to self-determination.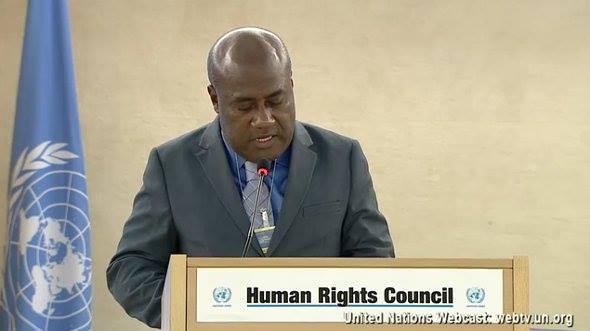 The minister highlighted the 'killings and arrests of Papuans; extrajudicial executions of activists; the arrests, beatings and fatal shootings of peaceful demonstrators, including high school students; and reports of persistent violence against Papuan women.'
The full statement by the Vanuatu government can be read on the ULMWP website.
Reacting to the statement, Benny Wenda said: 'This is a historic moment for West Papua; it is the first time in West Papuan history that we have been represented at the Human Rights Council, at this level. On behalf of the people of West Papua, we extend our profound gratitude to the Solomon Islands, Vanuatu and the Pacific nations for your true leadership. For more than 50 years West Papua has been kept secret. Now is the time to request the UN revisit our case. Now is the time for West Papua's struggle to come to an end. We ask all brothers and sisters across the Pacific, Africa, and around the world to support West Papua's legal right to self-determination. We want to be free.'
Today a further side meeting was held, entitled: Shining the Light on the Human Rights Situation in West Papua. The meeting involved a panel discussion featuring a number of prominent delegates including representation from the ULMWP.