25th February 2017
On behalf of the people of West Papua I would like to pass on my deepest and sincerest condolences after the tragic passing of US Congressman Eni Fa'aua'a Hunkin Faleomavaega, Jr. who sadly died on 22nd February 2017.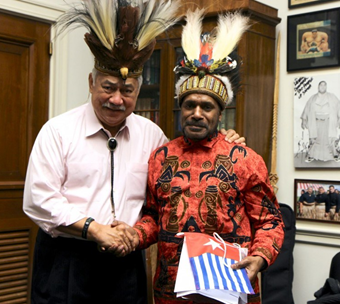 It brings true sadness to my heart to learn of the passing of such a good friend. He was an inspiring leader who used his voice as Congressman for all American Samoa to speak on behalf of his people for their suffering Pacific Islander brothers and sisters and bravely call for their freedom. This was a mark of real courage and leadership which I hope will continue to inspire other politicians and leaders around the world.
Eni Faleomavaega, was a true and noble friend of the people of West Papua. As one of the very first United States politicians to stand up for West Papua's freedom, he made our struggle known across the USA, including at a Senate and Congressional Level.
He was always on the front-line of our international solidarity.
Congressman Faleomavaega visited West Papua in 2007 but despite being promised a 5 day visit to meet with the people of West Papua he was given just a 2 hour visit to meet with officials, followed constantly by the Indonesian military. Stating his frustration with the Indonesian military, he said "While I felt no danger whatsoever from the Papuans who were unarmed and only wanted to meet with us, I was very uncomfortable that the [Indonesian] military was so bent on not allowing even a conversation to take place."
After spending so much time trying to find out about West Papua, when he eventually met the Indonesian President, Congressman Faleomavaega told him that Indonesia 'has done such a lousy job in the treatment of the West Papuans, you might as well give them their independence', adding: 'All they want is to be respected, to be treated decently and not have the military constantly on their backs."
On commenting about the US government's attitude towards West Papua, the Congressman stated, "We've become very hypocritical. We preach democracy on one hand and then here are these people fighting tyranny and fighting the fact that for 40 years they've been tortured and murdered – all forms of atrocities – and nobody pays any attention to this,"
I knew Eni Faleomavaega, for many years and he will be dearly missed by us all. From the first moment I met him till the last I always felt our spirits connect, and with it the spirits of our ancestors and our Pacific people. From our political meetings to playing our ukuleles together; our friendship represented the unbreakable bonds of Pacific Islander solidarity. He was always a strong supporter of my people and will be forever remembered for standing up to Indonesia's genocide, illegal occupation and colonial rule. The people of West Papua, both inside the country and around the world all send our deepest condolences and sympathy to family of Eni Faleomavaega and the people of American Samoa.
Farewell and Rest in Peace dear Congressman, leader and truly good friend, Eni Faleomavaega. The people of West Papua will never forget you but will always remember you, as your spirit continues to guide and inspire us in our struggle for freedom. You will be part of our history which will record your incredible effort to help bring about our freedom. With your spirit we will continue to peacefully struggle to liberate the people of West Papua and with your support, and the support of the people of American Samoa and people everywhere, we know that we are ever closer down the long road to freedom.
Benny Wenda
West Papuan Independence Leader
Spokesperson for the United Liberation Movement for West Papua (ULMWP)