Originally written by Benny Wenda on 17th November 2017. He has also written a short summary of this statement which can be read in a Press Release by the Free West Papua Campaign.
Dear everyone,
I am deeply concerned about the extremely worrying situation currently unfolding in the Tembagapura area of West Papua, where a huge Indonesian military and police build-up of between 200 to 700 personnel is posing a severe threat to the civilians of the area.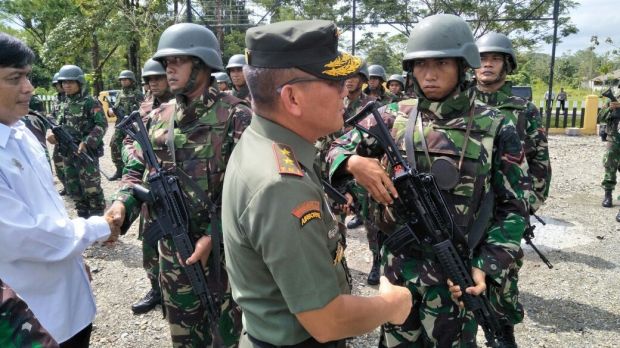 The Indonesian military recently raided two West Papuan villages after stating that they wanted to capture West Papuan people "dead or alive". A more detailed overview of the situation can be found here. They are also currently imposing a blockade on the area and there are reports that villagers have been harassed by the Indonesian military and police. This is deeply disturbing and is reminiscent of other brutal Indonesian military operations in the area which in the past have resulted in widespread killings and gross human rights violations, as part of the Neglected Genocide of West Papua.
Even more disturbingly, there are unconfirmed reports that West Papuan people in Utikini village have been killed by Indonesian military rockets or "ballistic missiles". Local people report that 2 West Papuan people, including a 50 year old woman have been killed in these savage attacks and 5 others have been injured.
Civilians in the Tembagapura area are in the gravest of danger right now and are currently unable to access basic needs such as food and medical supplies. There are reports of hunger and aid not being able to get through. This issue needs to be carefully considered with full responsibility and moral obligation towards the civilians. I call upon all sides to show restraint and consider and fully respect the rights and needs of all civilians. We don't want any more bloodshed in West Papua. There must be a peaceful solution.
The Indonesian government's claim of civilians being held as "hostages" in their own villages by their own relatives has overwhelmingly been dismissed as a hoax and nothing more than a fraudulent justification for their brutal plans for a military crackdown on West Papuan villagers. The Indonesian military also has a long history of creating violence in West Papua in order to justify more millions of dollars of funding from the Indonesian government and multinational corporations like Freeport McMoRan.
It is not a coincidence that the plight of civilians in the Tembagapura area is happening right next to the world's largest goldmine of Grasberg, operated by US mining company Freeport McMoRan. This mine is heavily implicated in the root cause of the suffering in West Papua because Indonesia (at the time under the leadership of the dictator Suharto) sold Freeport the mining rights to our land in 1967, two years before West Papua was (illegally) annexed by Indonesia. This "agreement" was held without the consent of a single West Papuan person, just like the New York Agreement in 1962 which handed over West Papua to Indonesia with the promise of an independence referendum which Indonesia continues to illegally deny us.
Ever since then, Freeport has paid the Indonesian military millions of dollars a year, in doing so effectively funding the ongoing military occupation and genocide taking place in West Papua.
Both the Indonesian government and Freeport McMoRan need to fundamentally understand that their presence in West Papua is illegal. Both Indonesia and multinational corporations have obligations to ensure that human rights are not being abused, yet Freeport has remained silent while the Indonesian military and police continue to commit the most gross human rights violations, claiming they are defending Freeport and the "territorial integrity" of Indonesia. There is certainly no integrity in the Indonesian government's fraudulent and colonial claims over our nation, West Papua.
The current presence of Freeport is illegal in West Papua because they are operating in an occupied country without the consent of the West Papuan people. If Freeport and other multinational corporations want to operate in West Papua, they must negotiate directly with the people of West Papua, NOT Indonesia. We are the owners of this land and we have never been given any say in our future, nor the corporate exploitation of our ancestral land. We have never given any permission to either Freeport, nor the Indonesian government to operate in our country.
I need to alert the world of the systematic Indonesian state violence which continues to happen in West Papua, year after year, leading up to West Papua National Day on 1st December. The Indonesian military deliberately and consistently creates more and more violence in order to justify their presence and in order to appeal for more funding. They claim to chase rebels but it is civilians who are overwhelmingly targeted. I am highly concerned about the civilians living in the villages around the Tembagapura area right now. They cannot access their basic needs as human beings. If they are hungry, how can they get food? If they are sick, how can they get medical help?
After reports that Indonesian settlers have left the region, leaving only West Papuans behind, I am deeply concerned that the Indonesian military will now feel free to annihilate West Papuan villagers. In the eyes of the Indonesian security forces and the Indonesian government, we West Papuans are treated as less than human.
For this reason, I am appealing for unrestricted international media access to help document and expose what is really happening in West Papua. Without international scrutiny, the Indonesian government feels they can get away with anything, it seems even to the extent that they are firing rockets at villages. Such unconfirmed reports illustrate the urgent need for unrestricted media access to West Papua. Without the gaze of the international community, I am deeply worried that my people will be silently massacred with no-one to tell their story, no-one ever finding out what is really happening to them.
We do not want any more bloodshed in West Papua, it must come to an end. To do this we need to look at the root problem of the suffering in West Papua. As has been recently confirmed by the UK All-Party Parliamentary Group on West Papua, we, the people of West Papua had our fundamental right to self-determination illegally denied to us through Indonesia's fraudulent "Act of Free Choice". We were denied, and continue to be denied our United Nations' promise of an Internationally Supervised Vote on self-determination.
We need urgent international intervention in West Papua to help save the lives of civilians. 
This year, we the people of West Papua have overwhelmingly shown our desire for self-determination through the West Papuan People's Petition, signed by over 1.8 million West Papuans, 70% of the indigenous population. This is more than 1,750 times the number of people who took part in Indonesia's Act of NO Choice. With the lives of civilians in danger, the need for a peaceful solution to the conflict in West Papua is as important and crucial as ever.
It is time for the people of West Papua to be allowed our fundamental right to self-determination to be expressed through an Internationally Supervised Vote on self-determination. Only this can ensure a peaceful solution at last for West Papua.
Time is running out.

Benny Wenda
West Papuan Independence Leader
Spokesperson for the United Liberation Movement for West Papua (ULMWP)