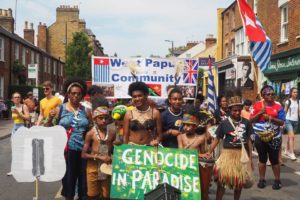 July 1st, 2018 is the 47 year anniversary of the proclamation of Independence by the OPM on July 1st, 1971. The proclamation brings us unity to fight for Independence from Indonesian colonialism and to look forward as one people with one soul and one destiny – Independence.
On July 1st, 2018, the West Papua community in Oxford, UK remembers July 1st proclamation by the OPM in 1971. We remember all the founding fathers of our nation and all of the fighters and activists who gave their lives for our freedom.
Wa Wa Wa
Benny Wenda, Chairman of the ULMWP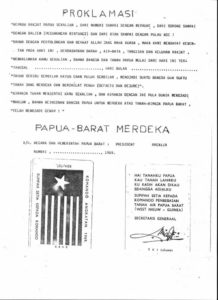 Proclomation of West Papua July 1, 1971
To all the people of Papua, from Numbai to Merauke, from Sorong to Balim (Star Mountains) and from Biak to Adi Island. With the help and blessing of God Almighty, 1 July 1971, the land and people of Papua have
been proclaimed to be free and independent (de facto and de jure) May God be with us, and may the world be advised, that the true will of the people of Papua to be free and independent in their own homeland has been met.
Victoria, July 1, 1971 On behalf of the people and the government of West Papua,
Seth Jafet Rumkorem (Brigadier-General)
Photos from West Papuan community in Oxford, UK