On behalf of the people of West Papua I would like to pass on my deepest and sincerest condolences after the death of British Lord Avebury (Eric Lubbock) who tragically passed away yesterday after a lifetime of fighting for freedom and human rights.
Lord Avebury, was one of the first members of International Parliamentarians for West Papua (IPWP), an organisation dedicated to supporting the fundamental right to self-determination of the West Papuan people.
I knew Lord Avebury for many years. He was always a strong supporter of my people and will be forever remembered for standing up to Indonesia's illegal occupation and colonial rule of West Papua.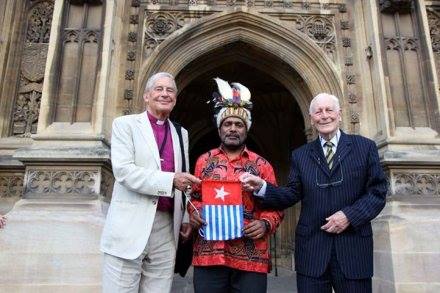 I remember with great fondness when in 2013, Lord Avebury joined a cross party debate in the British House of Lords where various members of the House called for the people of West Papua to be granted their fundamental right to self-determination.
During this debate, Lord Avebury was one of the key speakers and said,
"My Lords, the noble and right reverend Lord, Lord Harries, reminded us of the betrayal by the UN of the people of West Papua after Indonesia invaded and occupied the territory in 1961; it then connived with the so-called Act of Free Choice, when 1,000 handpicked men were coerced into ratifying the annexation. Today, unfortunately, the UN seems just as helpless in dealing with the gross and persistent violations of human rights inflicted on the occupied people,"
Ever a strong advocate for West Papuan self-determination, Lord Avebury called for the Indonesian President to visit the United Kingdom and witness the Scottish Independence Referendum "so that he can see how we deal with demands for self-determination in this country."
He said, "The situation in West Papua is almost certainly a lot worse even than we are able to describe," and condemned the Indonesian government for "pursuing futile attempts to eradicate the movement for self-determination by military force and draconian laws".
Lord Avebury will be dearly missed by the people of West Papua and we so deeply appreciate his truly sincere advocacy for our rights to be free. His efforts in supporting our cause have helped to drive forward the freedom struggle on the international stage.
Rest in Peace Lord Avebury, we will never forget you nor your incredible passion in helping West Papua to be free. Your support and the support of others all around the world means so much to my people and we are sure that one day we will finally be free.
Benny Wenda
West Papuan Independence Leader
Spokesperson for the United Liberation Movement for West Papua (ULMWP)