Dear everyone,
Over the past few days, around 600 West Papuan people have been reportedly arrested simply for peacefully demonstrating to call upon the Africa Caribbean Pacific (ACP) Summit to support West Papuan self-determination.
The Africa Caribbean Pacific (ACP) Summit is currently underway in Port Moresby, Papua New Guinea and is bringing together heads of state and other government representatives from around Africa, the Caribbean and the Pacific. We West Papuans are making our plea to the ACP as a cry for help because we are being brutally suppressed and silenced under Indonesian military occupation and colonialism. Across much of Africa, the Caribbean and the Pacific; colonialism has ended but in West Papua we continue to endure the horrors of colonialism and genocide with over half a million West Papuan people estimated to have been killed ever since West Papua was first occupied by Indonesia in 1963, and later illegally annexed after the fraudulent Act of NO Choice.
Therefore we are calling on our Africa Caribbean and Pacific family to please support us in solidarity with our ongoing struggle against this brutal colonialism, racism and genocide.
This week there were rallies held across West Papua as well as in several Indonesian cities as the people of West Papua took to the streets in our thousands to peacefully call for the ACP to support our fundamental right to self-determination as the Melanesian Spearhead Group (MSG) does. Demonstrations were held in many cities including: Port Numbay/Jayapura, Biak, Fakfak, Gorontalo, Jakarta, Manokwari, Nabire, Paniai, Sorong, Timika, Wamena, Yalimo and Yahukimo.
However the Indonesian government is becoming increasingly scared of increasing international support for the people of West Papua and in an attempt to hide the real situation in West Papua, the Indonesian police arrested an estimated 597 people simply for joining these peaceful demonstrations.
There are unconfirmed reports that 469 people were arrested in Port Numbay/Jayapura, 112 people arrested in Wamena, 7 people arrested in Manado, 6 people arrested in Gorontalo and 3 people arrested in Yahukimo.
Those who were arrested in Manado as well as 70 of those arrested in Wamena are still believed to be behind bars and are still at risk of being tortured like so many other West Papuan political prisoners.
Therefore on behalf of my people I appeal to all human rights groups, the Africa Caribbean Pacific Group of States and the world to please join us in calling for their immediate release.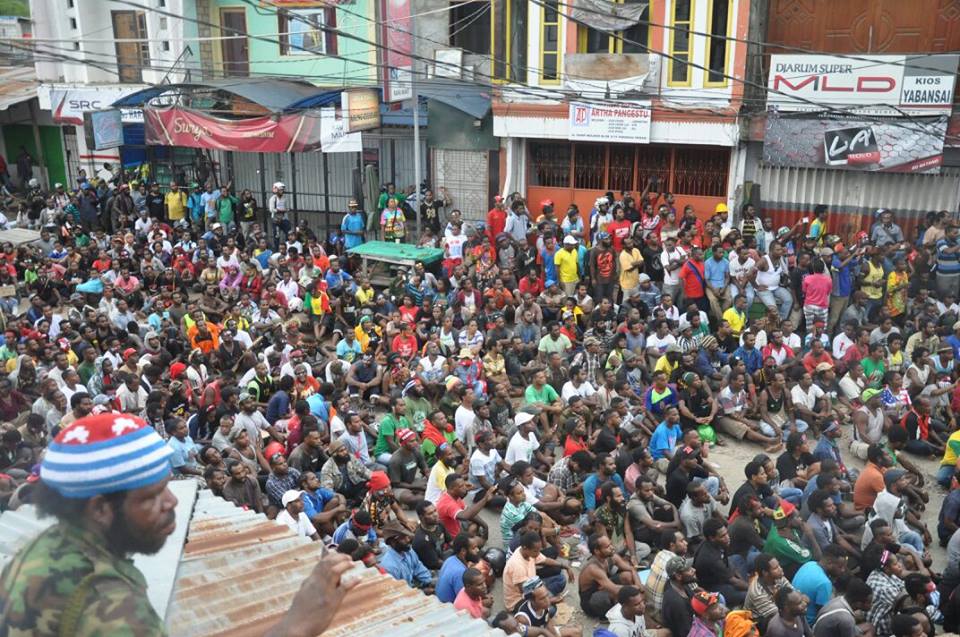 It is not a crime to to peacefully call for international support for ones' fundamental rights. We West Papuans risk our extinction as a people in the next few decades if this illegal occupation and terrible genocide continues.
Please help to support the people of West Papua in our peaceful struggle for self-determination. We West Papuans desperately want and desperately need to be free like other members of the Africa Caribbean Pacific Group of States.
On behalf of the people of West Papua, thank you all for your support.
Benny Wenda
West Papuan Independence leader
Spokesperson for the United Liberation Movement for West Papua (ULMWP)